Interesting Info -> 2012
2012 – Interesting Facts and Resources
Major Events, Music, Movies, End of the World Predictions and more
It is 2012.
Unless you are reading this from the future — which is kinda cool to think about.
Happy 2012 or whatever year it is. I was going to add this little section to my Fun Facts page, but ran into so many fun tid-bits and links about MMXII, I dedicated a whole page to the year 2012.
2012 is a leap year – my uncle greg who was born on Feb. 29th gets a birthday, yeah!
MMXII – is the Roman Numeral form of the year.
Designated Alan Turing Year – commemorating the mathematician and computer pioneer (totally awesome dude/ nerd-hero) on the centennial of his birth. I also mention Turning on my random interesting ideas and people page.
2012 is the Year of the Dragon in Chinese Astrology. The first day of the 2012 Chinese New Year is on January 23, 2012 in China's time zone.
2012 is also known more specifically as the Year of the Water Dragon, or Year of the Black Dragon. If you want to learn more about the Year of the Dragon see this site.
Some scientists have predicted major sunspot activity for 2012 — but other scientists disagree. Here is a chart of the Solar Cycle – and the best guesses for "solar maximum" is now expected to occur in May, 2013.
Upcoming movies to look out for in 2012 include a remake of Total Recall, Men in Black 3, The Amazing Spider Man, Resident Evil: Retribution….and lots more. (Links below)
Upcoming music releases that I am looking forward to include: Air, Die Antwoord, Dr. Dre, Leonard Cohen, The Knife, The xx… check the links below for a link to a big list of music releases for 2012. Also see: Blifaloo's Music Page
End of the World? – December 21st, 2012, Mayan Calendar, blah. blah – if you want to learn more about all the end of the world stuff check out this wikipedia page for an overview of various theories.
NASA says the world won't end in 2012. Source. – I'm picking NASA's predictions over your crazy cousin Fred's 😉
2012 Summer Olympic Will take place in London, England.
The Farmers Almanac says "Get ready for a wet, wild, winter" in 2012.
From xkcd.com: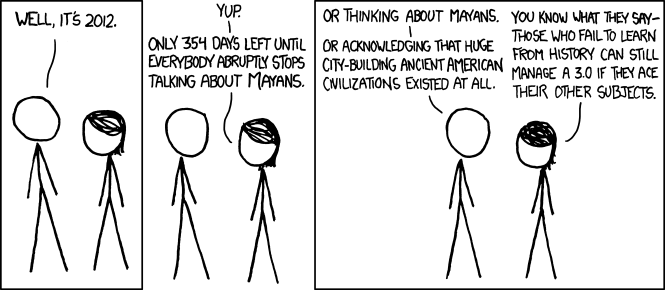 Links for 2012
Big list of upcoming movies for 2012 – In Chronological order.
Music Album Releases for 2012 – Find out if your favorite bands are putting out anything in the new year.
London 2012 Olympics – Wikipedia page
Comments on 2012
Have a comment or your own 2012 fact?