Interesting Info -> Coins & Money -> Gold Investments
Gold Investing Information
Price of Gold, How to Buy & Sell Gold, Bullions, Links, Books and Resources
The price of gold has been rising (see charts below), making this commodity more and more appealing to investors. Websites like BullionVault.com have made buying physical gold and storing it easy and affordable to a wider demographic. Experienced investors can find quick profits through buying/selling/trading at the right times, while new investors can start their own long-term nest-egg simply by purchasing gold coins and bullion.
Last update: April 10th, 2013
Jump to section:
1. Intro to Gold as an Investment 2. Types of Gold Investments: Gold Bullions & Coins, Gold Bars, EFTs, Mining Stocks, etc. 3. Historical Gold Price Charts, Current Prices, Stats and Other Info 4. Books on Gold Investments 5. Links to Gold Investing Websites and Gold Price News
In this guide you'll find a basic introduction to buying gold in various forms, price charts and links, along with suggested resources, websites, software and books.
Note from Blifaloo: I became interested in gold after doing research for my rare and valuable coins & wheat cent values articles here on Blifaloo. I received tons (literally thousands) of coin appraisal requests from my website visitors asking about all sorts of coins' values.
I am not a coin grading expert at all… my interest in coins is just casual.
But, for my readers I started doing more research and put together a guide to finding the value of coins.
This led me to some interesting information about gold coins and bullion being a solid long-term investment. Very recently I did some freelance work for a company in the precious metals industry, and my brain is so full of information on gold investment and trading that I figure writing this article would be a good way to clear my head.
1. Intro to Gold as an Investment
People invest in gold for a variety of reasons. Historically, investors purchase gold to hedge (protect themselves) against economic turmoil, political crisis, and other problems that can devalue stocks, fiat money and other forms of investments.
Many financial advisors recommended their clients' portfolios contain 10%-25% precious metal holdings (but I've seen others recommend anywhere from 25-50%+).
If you are interested in using gold as a long-term investment, but have limited funds and no time to study the nitty gritty of the gold trade and financial mumbo-jumbo — purchasing gold coins and gold bullion is a great way to start your own personal nest-egg.
Investors with a larger budget for gold have the option of purchasing gold bars, and storing their gold for a rainy day. While more experienced traders may be interested in buying and selling both physical and non-physical forms of gold for short term profits. (More about these various forms of buying gold in the next section.)
2. Buying Gold: Types of Gold Investing
Gold Bullion Coins – Physical gold is the top choice for many investors. One option for physical gold investment is buying Gold Bullion.
Bullions are special coins minted with the purpose of being stored for investment, rather than circulated as currency. Gold Bullion is literally "worth its weight in gold", plus a small premium based on supply and demand, rather than its currency value.
The Krugerrand from South Africa is the most widely-held gold bullion coin. Other common bullions include the British Sovereign, American Gold Eagle, Australian Gold Nugget, Canadian Gold Maple Leaf, Chinese Gold Panda, French Coq d'Or, and the Mexican Gold 50 Peso.
Bullion investors often store their collection in a safety deposit box, which can be rented for about $100/year.
Where can you buy gold bullion? Depending on your location, you could purchase gold bullion directly from your government mint. There are also many reputable online retailers offering gold bullion coins to the average consumer.
Gold Bars and other physical gold – Bullion gold bars have long been the most popular way to invest in gold. They can simply be bought and sold at major banks in some countries (such as: Argentina, Austria, Liechtenstein and Switzerland). Alternatively, there are bullion dealers that provide the same service.
One major issue with gold bars is storage needs. BullionVault.com allows customers to buy real gold and store it (choice of Zurich, London or New York vaults). Gold bought through BullionVault becomes the legal property of the purchaser.
Gold ETFs – Exchange-traded gold funds (ETFs) track the price of gold by trading a security on the stock market. The leading ETFs buy gold and hold it in trust at HSBC in London. Ask your stock broker about StreetTracks GLD in the US, or LxyOr GBS in the United Kingdom and Europe.
These shares can only be traded during your local stock market hours. There is a lot of info about ETFs, and related CEFs and ETNs on Wikipedia's article about Gold Exchange-traded Products.
Gold Mining Shares – Some investors opt to purchase stock in mining companies that deal in gold. When gold prices rise, the profits (and stock value) of the mining companies are expected to rise.
3. Historical Gold Prices, Current Prices, Charts, & Stats
Gold Price History
In 1800, the value of one ounce of gold was about $19. The United States fixed the price of gold at $20.67 for many decades until 1934 — at which point the price was raised to $35.00.
In 1975, the price of gold was allowed to fluctuate, and in 1980 the price of gold reached a peak of over $800. The price dropped again drastically to about $251/ounce by August of 1999, but increased quickly to $338 in October 1999.
From 2000 the price continued to rise, and in 2004 reached a level of over $400 per ounce — a price that hadn't been seen since 1988. In 2005 to 2006 the price continued to gain momentum and reached a new peak of $730 in May of 2006.
In June of 2006, gold falls 26% to $543 from its 26-year peak, but recovers to $845.40 an ounce in November of 2007, then breaks records again in 2008 nearing $1000/ounce. Now, in the last few years the price has pushed above $1400 per ounce.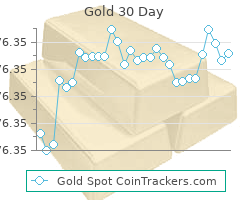 Other Gold Price Stats and Links
This is a great overview of the history (and causes in fluctuation) of gold prices from 1900-to recent if you want more detail about the reasons for price changes through the last century.
Also see wikipedia's blurb about gold prices.
I find the google trends chart and statistics for the search term "gold price" interesting.
Links to other gold charts online: see below.
4. Recommended Gold Investing Books:
Books on gold and other precious metals for investment. Links go to Amazon.com where you can read more details about each book.
5. Gold Investing News, Links and Related Websites
Gold Price News:
Feb. 11th, 2012 – Gold Prices "Being Driven by Currency Moves" – as Optimism "Renders Gold's Safe Haven Properties Redundant".
Other links worth checking out:
BullionVault.com – Buy and store real gold and silver for a long-term safe investment, or use their online buying and selling tools to trade for quick profits (or losses, ha!).
BullionVault also has a wealth of free information that would benefit both new and experienced investors. Of all online gold buying services — they probably have the best reputation.
Kitco.com – Lots of gold and other precious metal information, statistics and charts.
Live Gold Prices – I like the simplicity of this page to get a quick idea of the price of gold and other commodities.
Also see:
Iraqi Dinar – Smart Investment or Scam? Learn fact from fiction about the Iraqi Dinar as an investment and how to avoid getting scammed.
Intro to Investing in Stocks – Before you invest your money, please read these tips first.
More Interesting Articles, Ideas & Info | More How To Guides
Copyright 2004 – 2013 |